Interviews
In Pakistan FONG'S EUROPE has a considerable presence in the market with the GOLLER range in open width processing for both knitted and woven fabrics, as shown in the interviews with our customers, published in the Pakistan Textile Journal
Ahmad Jamal Textile Mills with Goller Pad Steam Dyeing Range

Click on photo and read more | May, 2019
Crescent Textile Mills with Goller Mercerizing Range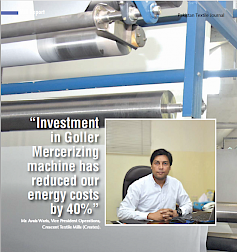 Click on photo and read more Feb, 2019
Sapphire Textile Mills with Goller Sintensa

Click on photo and read more | Oct, 2018
---

Turkey is one of  FONG'S most important markets in Europe. We are proud of testimonials we got from our customers in one of the leading International Textile Technology Magazines, "Tekstil Teknoloji" of Turkey, who are highly satisfied with our machines in the range of FONG'S, GOLLER, THEN and XORELLA.
Read more | June 2023
Read More | May 2023
Read more | Feb, 2019
Read more | Oct, 2018
Read more | Apr, 2018

Read more | Feb, 2018
---
Events and Publications
Stopover of Pakistan Dyeing and Manufacturing Association

Read more | Feb, 2017
---
Techtextil 2019
Our joint booth with our group Member A. Monforts Textilmaschinen at the International Techtextil 2019 in Frankfurt was lively frequented by customers, visitors and interested parties and resgistered as a successful presentation.